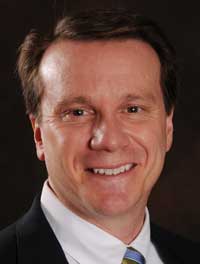 Stacy Coartney is President and Managing Partner at Churchill Financial, LLC. He co-founded Churchill Financial in 1995 and has over 29 years experience in the investment services industry.
Before joining Churchill Financial, Stacy was a securities trader at Stock Yards Bank & Trust in Louisville, KY.
Stacy graduated from Eastern Illinois University where he earned his Bachelor's Degree in Finance, and graduated from the W. Fielding Rubel School of Business at Bellarmine University in Louisville, KY where he received his Master's of Business Administration.
Stacy also has extensive experience in community service having held board positions with organizations involved in youth development, athletics, and religious institutions.
Contact Stacy at SCoartney@ChurchillFinancial.com.